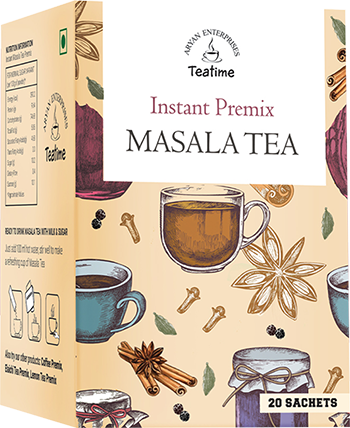 Instant Masala Tea Premix
A box contains 20 Single serve sachets.
It's Three in One Premix Sachets (Milk, Sugar, Instant tea added with Indian spices)
Empty contents of a sachet in a cup, add 100 ml hot water, give it a good stir et Voila! A refreshing cup of Masala Tea
Remember your rainy days with a cup of Tea, Teatime Instant Masala Tea is just what you wanted to cherish, with its Indian Masala ingredients like Ginger, Cardamom, Black Pepper, Clove and Cinnamon, it recreates the magic of real Masala Tea you would love to ENJOY anytime anywhere...
Premix 1 kg Bulk Packs also available. Contact for details
Ingredients
Sugar, Diary Whitener, Instant Tea Extract and Masala (Cardamom, Cinnamon, Clove, Ginger & Black Pepper)
Net Quantity
20 Sachets 'N'
Net Weight
280gms (20 sachets x 14g)
FOR NORMAL SUGAR VARIANT
(per 100g of powder)*
Energy (kcal)
390.2
Protein (g)
9.64
Carbohydrates (g)
74.68
Total Fat (g)
5.86
Saturated Fatty Acids(g)
4.68
Trans Fatty Acids(g)
0.0
Sugar (g)
10.2
Dietary Fibre
0.4
Sucrose(g)
10.1
*Approximate Values